Today, I would like to recommend 4 secrets to relieve eye fatigue. Let's relax your eyes together!
Whether it is a person who bows his head on a mobile phone, a person who works overtime facing a computer screen, or a person who is addicted to games and stays up late, our eyes are facing the screen nearly two-thirds of the time every day. This can lead to dry eyes, fatigue, soreness and other symptoms.
01 Self-service eye massage
The first method is time-consuming, but it is indeed the most cost-effective and useful method. They are temple massage, eye massage, eye heat.
Regarding temple massage and eye massage, everyone is most familiar with eye exercises.
Eye fatigue massage – machine simulates eye acupuncture point massage (Zanzhu point + Jingming point + Sibai point + temple four core points), squeezing and massage can quickly clear the meridian around the eye and promote blood circulation.
Regarding eye hot compresses, according to literature, hot compresses around the eyes at 40-42°C can accelerate blood microcirculation, promote metabolism, and relieve eye fatigue.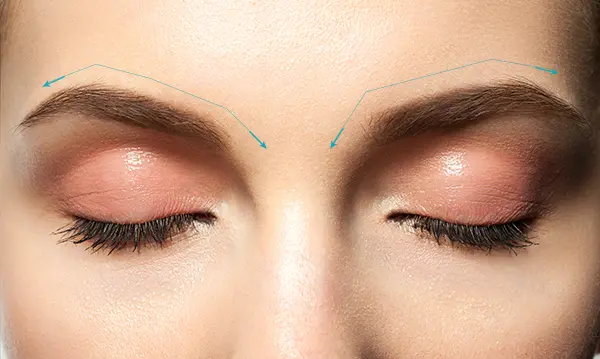 02 Eye Relaxation Products
As mentioned earlier, there are three ways to relieve eye fatigue: temple massage, eye massage, and eye heat. Therefore, the eye fatigue relaxation products currently on the market are also based on the above methods:
① Disposable hot compress eye mask
Wrap a layer of flannel or silicone around the eyes for hot compress, which can quickly heat up and stably control the temperature between 38-42°C. The cost of a single use is about 4 yuan, only hot compress can not massage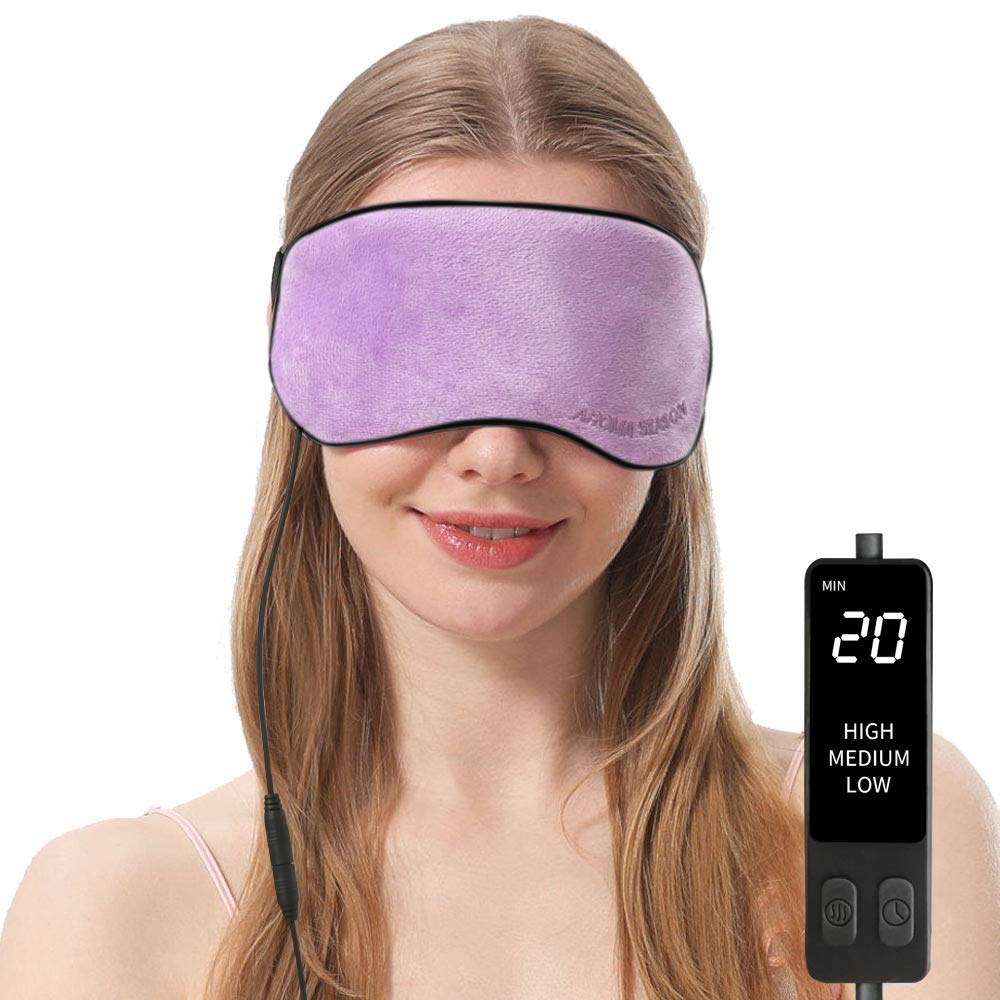 ② RF+EMS+Red light and other eye beauty devices
This is actually the category of beauty equipment. The core function of the product is more about eye beauty, such as wrinkle removal, lifting and tightening and lightening of eye wrinkles.
③ Eye massager
Eye massager is currently the most mainstream eye fatigue relaxation product, which belongs to physical therapy. It promotes blood and lymph circulation around the eyes through hot compress + massage.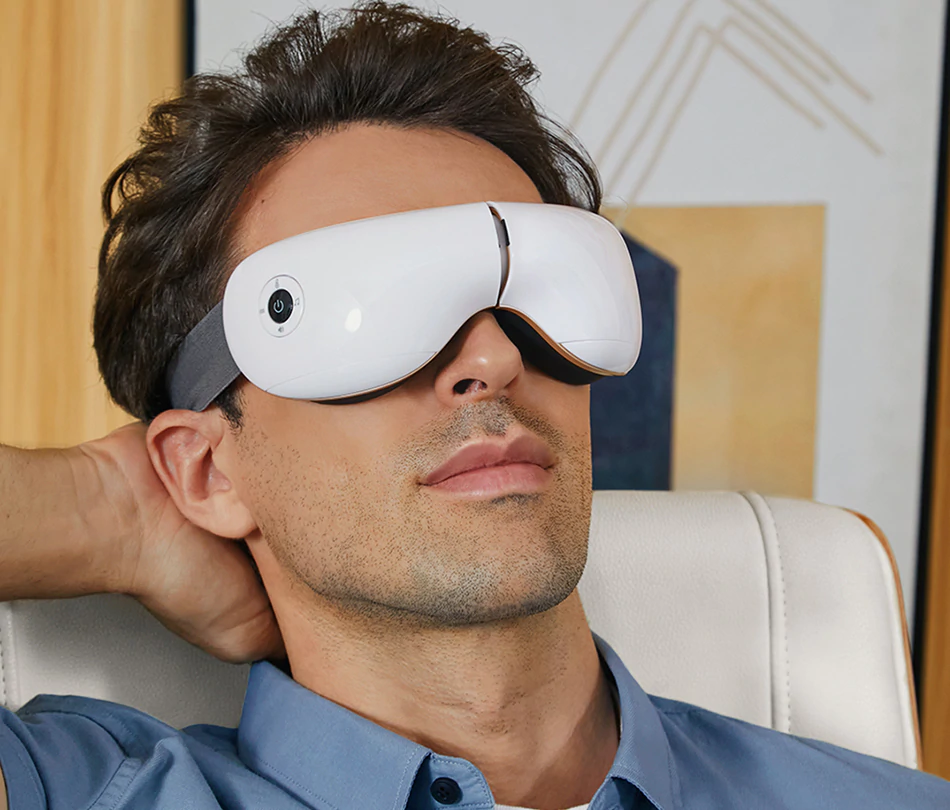 Specifically, the eye massager inflates and deflates through the superposition of multiple airbags, and the formed air pressure waveform performs precise massage for acupoints.
The eye massager can massage the nerves and muscles around the eyes comfortably through soft vibrations of different rhythms and frequencies. Therefore, the eye massager can relieve eye fatigue through massage and hot compress.
03 Recommended eye massager
Breo iSee3J Eye Massager
The three-dimensional airbag is used to massage the eye area comfortably. The three-dimensional airbag is wrapped with TPU film and has high elastic memory foam. Among them, air sacs 7+2 are distributed around the eyes and temples.
It also has a constant temperature and constant temperature hot compress function, which can deeply relax the eye muscles and fatigue. The use of hot compresses and eye creams also has a special effect on removing crow's feet from dark circles.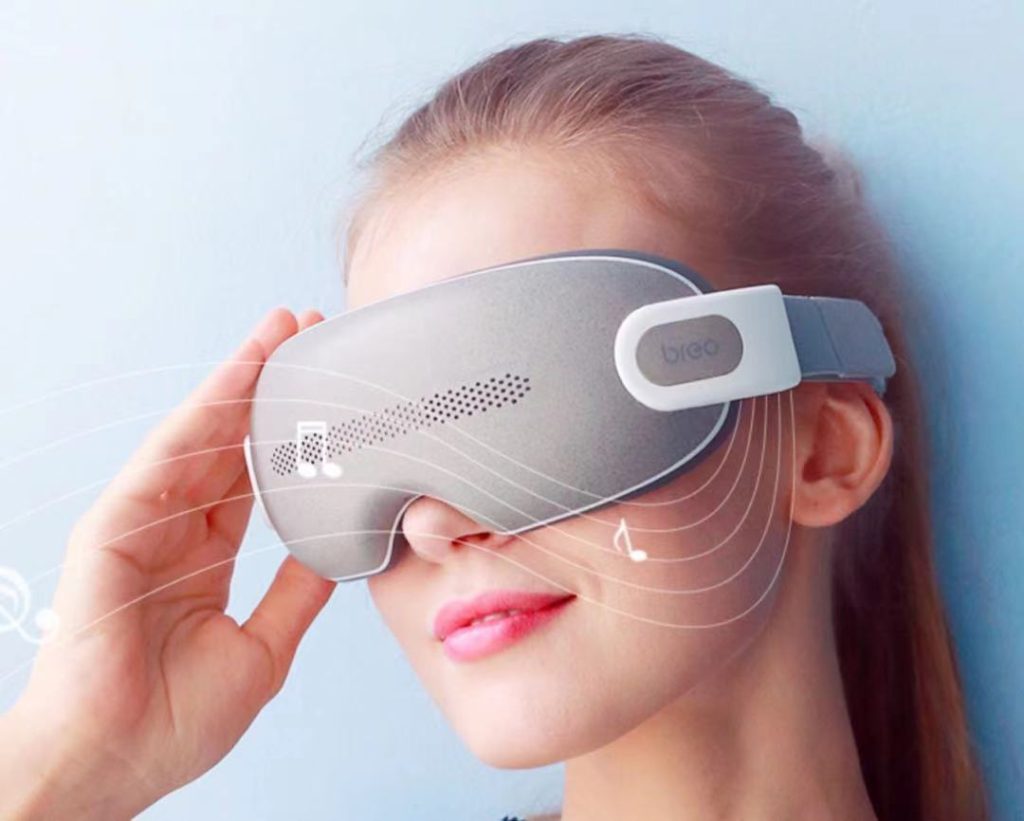 In terms of design, the Breo iSee3J has a simple appearance and is easy to control: one-button switch on and off, easy to control; the curved skin-friendly design makes the massage more suitable; there is also a thoughtful button blind spot design on the front.
In terms of material, a lightweight and portable skin-friendly material is used, and the contact surface is made of skin-friendly PU material, which is soft, comfortable, safe and easy to clean. The weight of the massager is also controlled at 275g, which is light and comfortable to wear. Breo iSee3J Eye Massager has 3 massage modes:
SLEEP mode: air pressure + timing 10MIN + music control at will;
MED mode: hot compress + timing 15MIN + free music control;
HARD mode: air pressure+hot compress+timed 20MIN+music control at will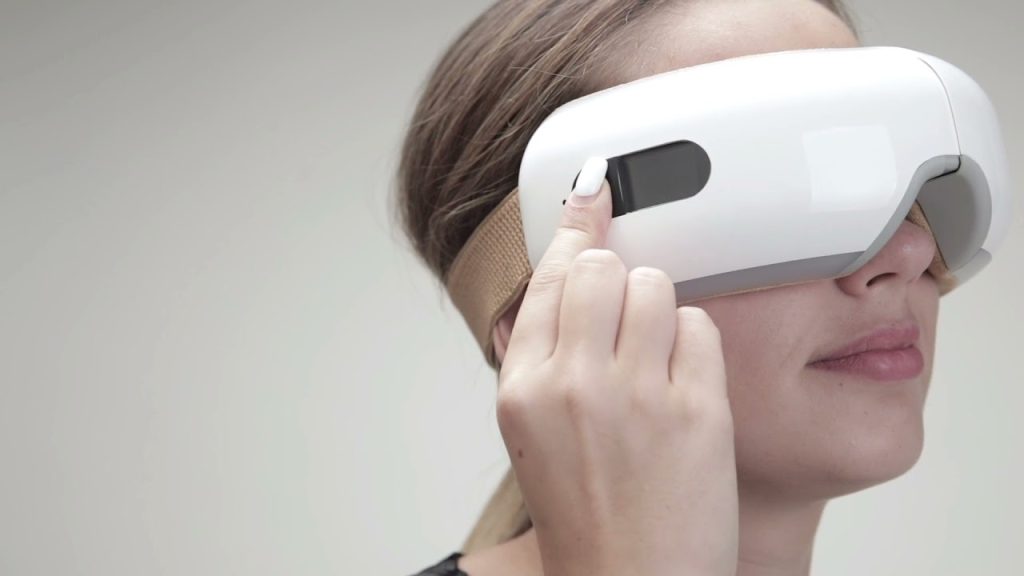 In addition, the Breo iSee3J eye massager has also specially launched an interesting eye protection device designed for primary and secondary school students. It is also blessed with intelligent interactive AI technology, and the design is more childish.
Finally, it is necessary to emphasize the precautions for the use of the lower eye massager. It should not be used when there are symptoms of eye diseases such as glaucoma, cataract, and retinal detachment, as well as those who have performed eye surgery.
04 Waist Massage
Long-term overtime and sedentary work, housework. And after excessive exercise, not only the eyes are damaged, but also the soreness, stiffness and tightness of the waist can easily be caused.
Massage is naturally a very good way to relax fatigue. However, massage cushions are not suitable for offices, and pulse massage belts are most suitable for office workers because they are portable and thin.
Here is also a recommended massage belt for everyone, also from the SKG brand.
SKG's W5 ST massage belt has a total of 5 massage techniques: rubbing, pressing, tapping, exercising, and massage, which can bring different fatigue relaxation experiences.
It also has a 6-zone massage design, that is, the massage zones are arranged following the longitudinal trend of the muscles, so that the core area of ​​the waist muscles can be touched.
The light and thin material is one of its highlights, so that we can wear it everywhere. Wearing it will not put a burden on the waist, there is no weight-bearing feeling, it is very skin-friendly and invisible, and the clothes are not bloated.
Again, a massage belt can help relax your muscles and fatigue. However, the purpose of recovering lumbar disc herniation cannot be achieved.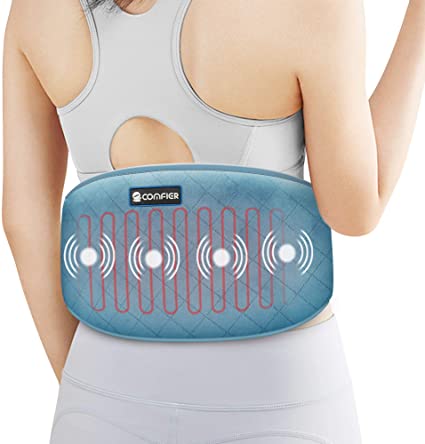 After reading this article, do you also want to put down your mobile phone, move your eyes and waist, and act quickly~